2/17/21 Facts from the Floor: Week Five
March 4, 2021
Dear Friend,

Last week, the General Assembly adjourned its 2021 regular session on Monday and convened a special session, called by Governor Northam, on Wednesday. The purpose of the special session is to complete the unfinished work of the regular session. 

Why, you might ask, could the General Assembly not complete its work in the 30 days allotted by the Constitution of Virginia? The answer is that the majority party needed more time than 30 days to pass their progressive agenda and move Virginia further to the left . When there is one party rule from the top down including both chambers of the legislature, the ruling party has to act quickly to pass ALL the legislative priorities they have before the House elections (and Governor, Lt. Gov and Attorney General) this November.

This situation is emblematic of a larger point: Democrats like government, want to grow government, and look to government as a solution to most problems. They also don't mind raising taxes to pay for their big government.  Judging from Virginia, however, Democrats don't actually run government very well. The failure to complete our regular session work on time – even with what was by far the smallest workload in at least 27 years – is the latest example of this shortcoming.

Republicans continue to fight for the things that are important to Virginians during these trying times: opening our businesses and getting people back to work, opening our schools and getting our kids back in the classroom in person, and finding ways to get the COVID vaccine out to people and turn this health crisis around. We've also demanded explanations and accountability from the Northam Administration. But one of the consequences of the Democrats having total control over state government is they have the power to squelch these efforts at accountability. And Republicans just don't have the votes to stop any of their legislation from passing.

Here's a great example:

SB 1422: This is my "voting accuracy" bill. It requires the State Registrar of Vital Records to transmit to the Department of Elections a weekly list of deceased people from the previous week. Currently, this list is transmitted monthly but in actuality only gets there every 2-3 months per the registrar. The bill requires the registrars to use this information to conduct list maintenance and to promptly cancel the registration of a person on the list. With strong bipartisan support, the Senate passed that legislation to increase election integrity by a vote of 34 to 5.
Democrats on the House Privileges and Elections Committee turned around and "laid my bill on the table" (which is the House's way of killing the bill) on the very first day of the special session, with only one Democrat joining Republicans on the Committee who voted in favor of the bill. The silver lining was that it exposed the Democrats unwillingness to pass bipartisan legislation that improves the accuracy of our election process. Noted. Please remember that in November as well!




My other remaining bills will crossover and be heard in House committees this week. If you would like to follow the six bills that were passed in the Senate and heading to the House, please visit here: https://lis.virginia.gov/cgi-bin/legp604.exe?212+mbr+S109C

Next week, there will be more on which to report from Virginia's capital city. Until then, have a great week and stay tuned!

Thank you to those of you who have reached out to express your opinions about upcoming legislation. It is appreciated. And thanks to all of you for your continued support. It is an honor to represent you in Richmond!   


Keep in touch and stay tuned!


Take care and stay well….


 



SENATOR KIGGANS' TOP FIVE MOST SURPRISING THINGS SEEN IN THE VIRGINIA SENATE THIS PAST WEEK:

1) When presenting my bills in virtual House committees from the Science Museum, it can be difficult to find a quiet place. My favorite places to present in virtual committee are the wind speed exhibit and the origami paper folding area (very quiet there!)!

2) When the Lieutenant Governor is absent from the Senate, the President Pro Tempore becomes the presiding officer. Currently Sen. Louise Lucas (D- Portsmouth) holds that position and has had the opportunity to run the show a few times this session already. (Today was the Lt. Gov's bday so he was late and she stepped in until he arrived!)

3) Every year, starting on February 1st, the Clerk of the Senate offers daily reminders at the end of our Senate day about how many "shopping days" are left leading up to Valentine's Day. This is a helpful reminder for the Senators to not forget to get a gift for their significant other! (Madam Clerk loves Valentine's Day!)

4) In the Science Museum, Senators are not seated in sections by party as they are in the chamber in the Capitol. This has actually been a good thing as we have been forced to talk to each other, make new "friends" and mingle with the opposite party throughout the floor session!

5) The House is meeting virtually, so it is not uncommon to see Delegates' pets, family members, houses, kitchens, etc. in the background. In my opinion, this is probably not the best way to do government but it does make for some funny sightings!


2021 Virtual Women Veterans Health and Wellness Forum

Thankful to be a part of the Virginia Department of Veterans Services 2021 Virtual Women Veterans Health and Wellness Forum! Always great to be with other women veterans and hear about their service to country!





Valentines Day 2021

Valentine's Day is usually a special holiday in the General Assembly. Normally we decorate our office doors, exchange a few valentines, & eat too much chocolate during session, but this year looks a little different here in the Science Museum. We did get heart cookies from the Executive Mansion though….. so there's that!






Happy Anniversary!!

When you're a Navy pilot and you marry a Navy pilot, you have a wedding full of awesome airplanes! Happy 22nd Anniversary to the cutest, sweetest, and most supportive husband a girl could ask for!! I love you!!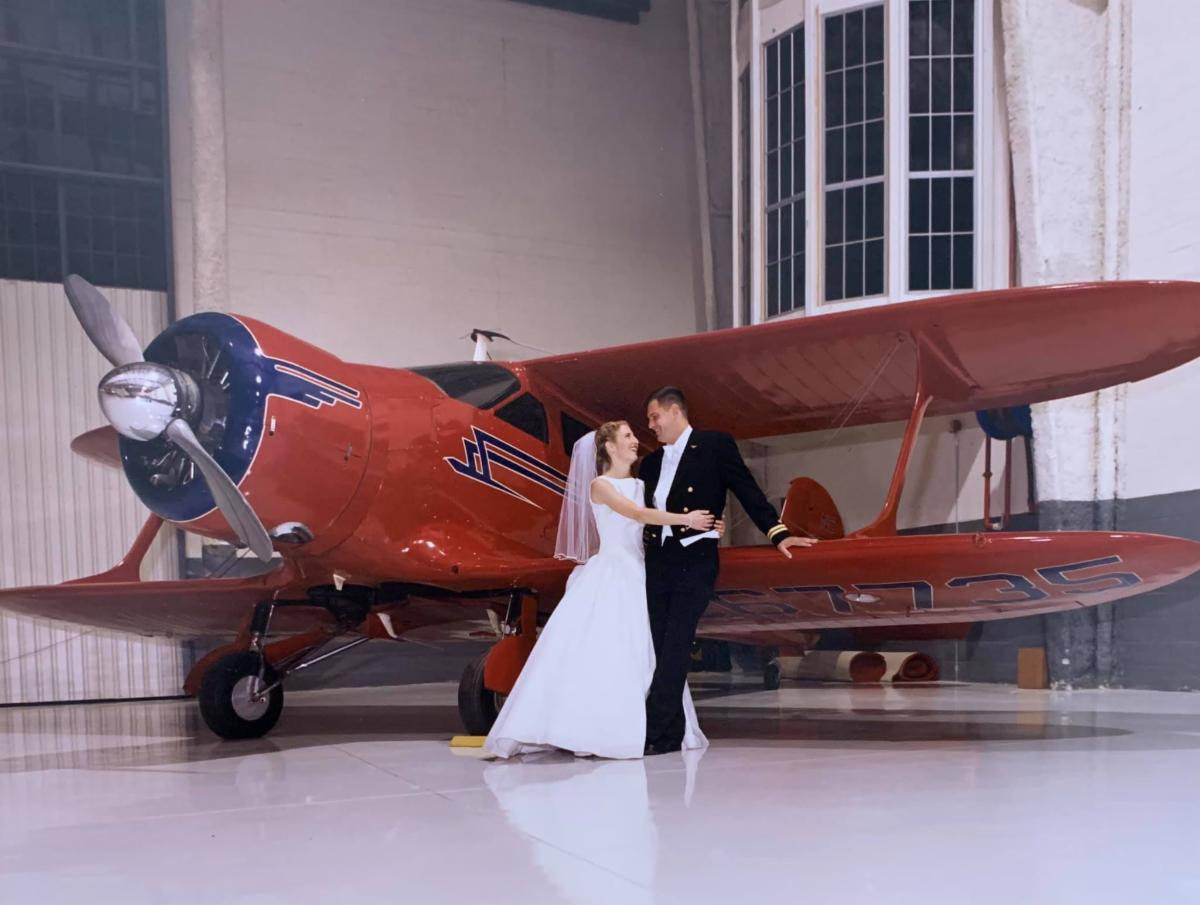 Vaccine Update

Virginia has a new online registration system to receive a COVID19 vaccine:
https://vax.preregister.virginia.gov

If you are in priority group 1b and are interested in getting the vaccine, please register online. (I get my second shot Saturday and will be administering the vaccine at the VB Convention Center as well!)
Here's is more information:https://www.vdh.virginia.gov/covid-19-vaccine/

Additionally, CVS has started to offer the vaccine to Virginians who are 65+. Please follow this link to register: https://www.cvs.com/vaccine/intake/store/covid-screener/covid-qns

For updates from CVS regarding the vaccine, please visit: https://www.cvs.com/immunizations/covid-19-vaccine





‌Keep In Touch!




Call us!! The Senate of Virginia is operating a toll-free constituent hotline for the 2021 General Assembly Session. You can call 1-833-617-1821 to express your opinion on legislation Mon-Thurs 8:30am-5pm and on Fridays 8:30am-2:00pm. The message will be sent directly to your legislator's office. (& yes- I love the plug in handset I got for Christmas for my cell phone!) You can also call my district office at (757) 990-3080 or send me an email to: district07@senate.virginia.gov.

Legislation Information

Click Here to View All Legislation

Click Here for Sen. Kiggans Legislation

To watch the Senate of Virginia's daily meetings and committees, follow this link: http://virginia-senate.granicus.com/ViewPublisher.php?view_id=3

DMV Issues??Having trouble getting an appointment at the DMV, please call our office for assistance and we can help! 757-990-3080



If you are overwhelmed or need help finding specific answers to questions, please don't hesitate to reach out to my office. The email is: district07@senate.virginia.gov and our phone number is: 757-990-3080. As always, it continues to be an honor to serve and represent you all as the State Senator from the 7th district. Stay safe and well out there!